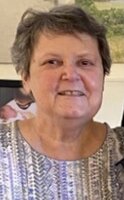 Marilyn B. Swart
Marilyn B. Swart, 79, of Pembroke, passed away peacefully, surrounded by her family on November 21, 2021. She was preceded in death by her beloved husband George A. Swart. Born in 1942 to her parents, the late John Joseph and Winifred Dowd. She is survived by her children, David and Karen Swart of Pembroke and Dennis and Colleen Swart of Bridgewater. She is also survived by her siblings, Maureen Melanson, Ron Dowd and his wife Joy and Patricia Hennebury. She was also preceded in death by her siblings, Joan Vezina, Paul Dowd, Jack Dowd, Beverly Gatzke and Barbara Dowd. She is survived by her loving grandchildren, Kelly, Brian, Ryan and Katherine. She also leaves many nieces and nephews.
Marilyn was a loving wife, mother, grandmother, sister and friend. She was extremely proud of her children and grandchildren for their many accomplishments. She retired after many years from Guardian Life Insurance. She will be missed dearly by all who knew and loved her.
Private burial services from the Shepherd Funeral Home will be held at the Massachusetts National Cemetery, where she will join her beloved husband.