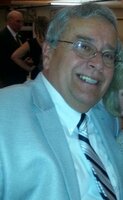 Thomas F. "Tom " DuPont, Sr.
DuPont, Thomas "Tom" F., Sr, 70, of Pembroke, died peacefully with the love of his family surrounding him on Tuesday, November 16th. Tom, aka the "Big Guy" was larger than life and brought joy to all who knew him. He leaves a legacy behind including his high school sweetheart and love of his life, Barbara (Hartley), whom he has spent the last 53 years with and married 48 years ago. Together they built a wonderful life. There is nothing that Tom loved more than his family and friends. He was a friend to all and if you needed the shirt off his back, it was yours. He loved his Boston sports, the daily weather reports (or giving them) and took so much PRIDE in everything his children and grandchildren did.
Tom grew up in Randolph, MA and worked for the Boston Public Health Commission for many years. What he enjoyed the most was being with his family on vacation, at the beach, riding in the boat, playing washer tosser, making a pot of his famous meatballs and sauce, or sipping a cocktail. He enjoyed his "scratchies" and times at the Casino. He loved his trips to Bermuda, Europe, Florida, NH, Maine and enjoyed many trips with his beloved friends.
He leaves cherished memories with his children, son Thomas "Tom" Jr. and his wife Erika, daughter Julie and her husband Lance Kennedy, and daughter Jennifer and her husband Travis DiJoseph. His most favorite title of all was "Papa" and he brought so much love and laughter to each of his grandchildren: Thomas "Tommy" III, Abigail, Erik, Noah and Sofia were the light of his life.
Tom is predeceased by his parents, George F. DuPont and Jean (Roselli) of Randolph. He leaves behind his brother George and wife Janet, his sister Judy, and his beloved mother in law Jean Hartley of Randolph who loved him like her own. He is brother in law to Christine (Tia), Nancy & Steve Walenski, Paul & Kathy Hartley, and Jim & Tara Hartley. He also leaves behind many, many adored nephews and nieces in addition to beloved lifelong friends.
To celebrate his life, please join the family on Saturday November 27, 2021 at 10:00am at St. Thecla Church in Pembroke. In lieu of flowers, gifts may be made to Dana-Farber Cancer Institute in memory of Tom to support cancer research and patient care at:
Dana-Farber Cancer Institute
P.O. Box 849168
Boston, MA 02284 or via www.dana-farber.org/gift.