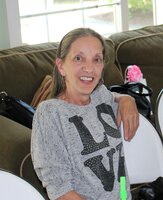 Susan Jean Cullity
Susan Jean Cullity, 65, of Carver, passed away peacefully in her home on November 13, 2021. Susan is survived by her loving husband of forty years and teenage sweetheart, Steven.
Born in Dorchester on July 16, 1956, she was a beloved daughter of the late Lee and Betty Bertolo and sister of Mark Bertolo, the late Dennis Bertolo, Paul Bertolo, and Diane Kiely.
Susan was a devoted mother who cherished her four children: Steven Jr., Matthew, Kristen, and Megan; her six grandchildren: Caley, Ethan, Emma, Scarlett, Ava, and Benjamin; and her loyal dog, Charlie.
Susan was a meticulous homemaker, a phenomenal card player, and a vibrant dancer. She had a fun-loving and playful nature, often enthusiastically joining in on her children's activities such as jumping on the trampoline and playing video games. Susan was known for her athletic abilities, walking on her hands with ease, and being an expert hula-hooper. She was a lover of lighthouses and the ocean, family game nights, live classic rock music, and reality television. Her family and friends will always remember her infectious, joyful laugh.
Susan was a gracious friend to all and will be remembered for her kindness, selflessness, and generosity. Susan's priorities were always focused on everyone else around her. She was a constant supporter of her family in every way, often dedicating much of her time to provide for her children. She was a beacon of positivity, consistently addressing any concern with "That's okay," and coming up with a solution or idea, all the while never wanting anyone to worry for her. She saw the good in everyone and would go out of her way to offer help or a listening ear. She never expected anything in return. So long as others in her life were happy, Susan was happy.
Memorial visiting hours will be held on Saturday, November 20, 2021 at the Shepherd Funeral Home, 116 Main St, Carver from 2:00 to 4:00PM.
In lieu of flowers, donations may be made in honor of Susan to any of the following:
-Disabled American Veterans
-Shane Gives Thanks, Inc
-Carver Council on Aging