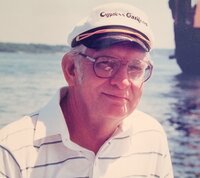 Hazen W Mudgett
Hazen (Hank) Wallace Mudgett of Kingston, MA and Lillian AL, formerly of Maynard, MA, passed away peacefully on November, 13, 2021 at Bay Path Nursing home in Duxubry, MA.
Hazen was born in Waltham on July, 23rd 1932 to Lynn and Katie Mudgett. Hazen was predeceased by his beloved Wife Helen (Waddington), his brother Kenneth and his wife Janice Mudgett of Hudson, MA.
Hazen is survived by his loving nephews Mark Mudgett and his wife Betsy and their family of Boxford, MA, David Mudgett and his wife Karen and their family of Burlington CT. Hazen was also the loving Stepfather of Doreen Worthley and her family of Franklin, NH and Beth Ann DeLorey and her family of New Sharon, ME, also his loving cousin Thomas Mudgett and his wife Patricia of Plymouth, MA. Hazen is also survived by his longtime beloved companion Carolyn Vokes of Kingston, MA and Lillian, AL and her family of Kingston, MA and Littleton, MA as well as his "special" Grandchildren Madeline Emmetts of Kingston, MA and Joshua Vokes of Sterling, MA.
Hazen was a graduate of North High School, Worcester, MA in 1951. Hazen then entered the Army in 1952 and was sent to Korea with the 74th Engineer Division. He was honorably discharged as a Corporal and in 2018, received the Ambassador for Peace Medal from the Republic of Korea for his service in restoring and preserving their freedom and democracy.
Hazen was also a proud member of the American Legion #48 Lillian, AL. When returning home from Korea, Hazen joined and retired from the National Automatic Sprinkler Fitters Union, Local 550 as a pipe fitter. Hazen was known to all as a kind and loving man. He enjoyed photography, painting, traveling. Hank was happiest spending time with his loved ones.
Hazen was a active parishioner at of St. Johns Episcopal Church in Duxbury, MA and The Episcopal Church of the Advent, Lillian, AL for many years.
A visitation will be held at Shepherd Funeral Home, Kingston on Tuesday, November 23, 2021 from 9:00 to 11:00 AM, with a funeral service there at 11:00 AM. Interment will follow directly after at Bellevue Cemetery, Harvard, MA.
Memorial Donations can be made in his name to The Episcopal Church of the Advent, 12099 CO Rd 99, Lillian AL 36549.