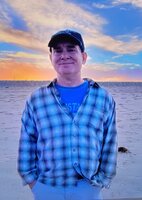 David J Donati
David J. Donati, 58 of Plympton, passed away Saturday November 13th 2021. Son of Patricia & the late David F. Donati. Formally of Central Falls RI before moving to Plympton in 1966.
David was the dad to two daughters Laurie of Concord & Jaclyn of Easton and the ex-husband of Linda Donati of Easton. David was the step son of William Leontie of Plympton and step sister of Kim Tew of Connecticut, He was the brother of Todd Donati of Carver & Kate Leontie and husband Tom Garofalo of Milton. And the love of his life Colleen Pierce" who made the last seven years the happiest he could have asked for". He was employed by Sears Automotive for over 30 years. He will be missed by all.
Calling hours for David will be held on Thursday November 18, 2021 from 3 to 6pm at the Shepherd Funeral Home Kingston . Burial for David will be Private.