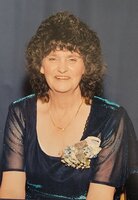 Maureen D Darby
Maureen D Darby (Sullivan), 74, formerly of Jamaica Plain, Boston, passed away peacefully on Thursday, November 11th, 2021 at Beth Israel Deaconess Hospital in Plymouth, surrounded by her loving family. Maureen was preceded in death by her husband Paul Darby. Maureen was a loving mother to her children, Jean Marie Darby, Darleen Willis along with her husband Gary, and Paul Darby along with his wife Saori. Her greatest treasures were her grandchildren. Her grandsons Christopher, Shawn, and Bradley Willis, along with his wife Erica.. As well as her granddaughters, Alycia and Vivian Darby
Maureen worked as a home health aide at the age of 50. She worked for the Village at Duxbury for many years and loved her the residents. Seeing their happy faces every day brought her much happiness. To most, Maureen was known as "Nana Darby". She loved to go to all her grandkids' events, see all of their friends, and be by their side every step of the way. When it came to the kids and their friends, she was always encouraging them to invite everyone to the house, the more the merrier for Nana Darby. She especially enjoyed going to lunch with her grandkids the most. Her favorite stop was at McDonalds where she would always get her Diet Coke and vanilla ice cream. Maureen was one of a kind. She was a terrific, loving, and caring woman. She will be greatly missed by her family and friends.
A celebration of life will be held on Tuesday, November 16th from 4-7 pm, there will be a service at 6 pm. The celebration will be held at Shepherd Funeral & Cremation Service at 116 Main St. Route 58 in Carver, MA.
In lieu of flowers, please make donations to the Shanes Giving Food Pantry, 128 Main st Carver, Ma.