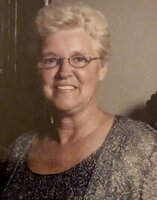 Patricia L. Swartz
Patricia Lee Swartz, 74, of Plymouth, went to her heavenly home on November 10, 2021. She was a beloved wife, mother and grandmother, a respected businesswoman and a Christian.
Patricia was preceded in death by her husband, James Swartz. Patricia was a loving mother to four daughters, Christine (Snow), Denise (Ubienski), Dorene (Sheehan) and Tracy (Swartz-Lane). Cherished grandchildren, Tim, Tony, Ryan, George, Jim, Justin, Stephanie, Dan, Sandy, Alex, Amanda and eight great-grand children.
Patricia known to all as Nana Pat, was a kind, open hearted loving woman. She enjoyed crocheting, gardening and taking long walks with her sweet dog Toby. Patricia was the happiest when she was surrounded by her family, especially at Sunday dinners.
A celebration of life will be held on Saturday, November 13, 2021 at the Shepherd Funeral Home, 116 Main St, Carver from 2:00 to 4:00PM.
Interment will be held at a later date at Ohio Western Reserve National Cemetery, where Patricia will join her beloved late husband James Spencer Swartz.