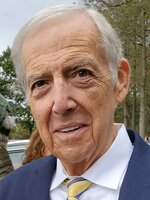 Charles F "Chuck" Verrell
Charles F. (Chuck) Verell, 81, of Duxbury, Massachusetts, passed away peacefully, at home on October 16, 2021. Chuck was the loving and beloved husband of the late Jewel G. Verell. Survivors include his sister, Millie Woodbury, and his children Jason Verell and Megan Verell, as well as a loving extended family.
Chuck, born May 18, 1940, was the son of Charles and Mildred Vrhel. While growing up in North Riverside, Illinois, he especially enjoyed his time at Riverside-Brookfield High School where he played on the varsity football team and conducted the high school pep band. Chuck attended the University of Illinois, Champagne, where he was a proud member of the Alpha Tau Omega fraternity and graduated from Western Illinois University in 1963.
After having first met as young teenagers, while attending Fortnightly etiquette and ballroom dance classes, Chuck and Jewel were married in June 1963. That same summer Chuck began a career that encompassed advertising sales at the Chicago Tribune, transitioning to a focus on broadcast media and marketing that included time as the General manager of Boston based channel 25, WXNE, while it was owned by the Christian Broadcasting Network. His work took him from Chicago to Boston, with stops in Ohio and New York City in between. Chuck's retirement years were filled with travel, volunteering, and a never-ending pursuit of learning. He was a long-time member of The Gideons International, and an active congregant of Mayflower Church, Kingston, MA, where he served as an Elder.
A memorial service will be held at Mayflower Church, 207 Main Street, Kingston, MA 02364, at 11:00 am on February 19, 2022, with visitation immediately following in Briggs Hall, located directly behind the Church building. If you wish to donate in Chuck's name, please consider giving to the Susan F. Smith Center for Women's Cancers, Boston, MA, or Mayflower Church, Kingston, MA.