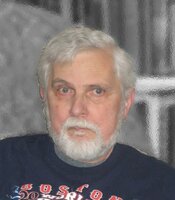 Christopher A Batson
CORRECTION OF SERVICE LOCATION
Christopher A. Batson, 67, of Plympton passed away at home after a lengthy illness on September 27, 2021. He leaves behind his wife of 46 years, Debra (formerly Farrar), and daughters Jennifer and Heather. He first caught his wife's eye in elementary school when he played the "taps" echo correctly after the first bugler bungled it. He was also the son of Robert V. Batson and Mary A. Batson (formerly Tompkins) and brother of Stephen R. Batson, who preceded him in death.
Chris, as he was known to loved ones, was a genuine guy with a dry wit. He had the gentlest touch and was the person you wanted if you needed help cleaning out your nasty scrape. His love of cats and uncanny ability to bond with even the most skittish kitty was almost certainly linked to these traits. Chris was a music aficionado and a lay scholar of '60s and '70s rock history. Although he never lectured, he always had insights about current events that belied his analytical nature. Despite a laid-back exterior, his competitive streak was revealed any time Monopoly, checkers, or a mini golf course appeared — or when he was watching a Red Sox or Patriots game.
Chris always strived to do what he thought was right. While working retail for over 40 years—mostly as a manager for Stride Rite—he treated his customers with care and respect while looking out for his employees the best he could.
Chris thoroughly appreciated the simple pleasures in life, like a piece of good chocolate, homemade lasagna, or a walk in the woods on a beautiful day. He patiently tended a garden, and especially delighted in his exuberant tomatoes, lush rhododendrons, and beautiful hydrangeas.
Visiting hours will be held at 10 am on Thursday, October 7, 2021 at Shepherd Funeral Home Located at 116 MAIN ST CARVER, MA followed by a short memorial service at 11:30.
In lieu of flowers, donations can be made to the Old Colony Hospice at https://www.oldcolonyhospice.org/ or the Boston University School of Medicine Amyloidosis Center at https://www.bu.edu/amyloid/donate/.
1 Attached Images