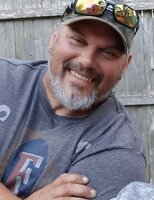 Mark A Simonetti
Mark Alan Simonetti, 50, of Abington, MA. passed away peacefully on September 30, 2021 after a brief illness surrounded by his loving family. Mark was born on December 9, 1970 in Weymouth, Ma to Joan M Bromley and Phillip Simonetti.
Mark is survived by his soulmate/wife Charlene, children Xavier, Dillon, Emilee and Ryan, grandson Michael and pup Cooper. He was the best brother to Christopher & Liz Bromley, and David Flaherty & Maureen Nowak, and loving Uncle to Stephen, Matthew, Laila, Mariah, Benjamin and Lilah.
He is also survived by his father Phillip Simonetti and his wife Antionette, Aunts, Uncles and Cousins. He is predeceased by his Mother Joan M Bromley and Stepfather Peter Grover.
Mark had a larger-than-life personality and had a love so big for his family, friends and community. His happiest times were spent with his family, on the starting line of a drag race with the 508, or on the sidelines of his kids' sporting events.
He had such a dedication to his work at ReBuildex/West Light Development and East Coast Sealcoating.
Calling hours will be held on Wednesday, October 6th, at the Shepherd Funeral Home located at 216 Main St. Kingston, MA between the hours of 4 and 8pm. A Service for Mark will also be held at the Shepherd Funeral Home, on Thursday October 7th, at 10am.
The Family would like to extend an invitation to join them in a gathering to celebrate Mark after the services on Thursday at the Knights of Columbus in Kingston.