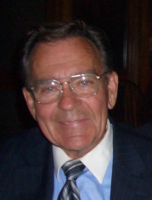 John H. "Jack" Angley
John H. (Jack) Angley
April 27, 1939 - September 22, 2021
Jack passed away on the morning of September 22nd. Husband to the late Dorothy M. (Dot) Angley, and father of three children from his first marriage: Kelly Dolloff, John Angley (wife Christine), and Adam Angley (wife Carrie); and four stepchildren: Linda Everett, Sandra Leonard, David Lindros (wife Deborah), and the late Kathleen Lindros. Jack was the oldest son of the late Dr. John and Florence (Davis) Angley, and brother to six siblings: Judith Angley, Edward Angley (wife Marilyn), Jeraldine Celec (husband Stephen), the late James Angley, Joseph Angley and Jeffrey Angley (wife Ellen). Jack also leaves behind grandchildren and great grandchildren.
Jack grew up in Pembroke and graduated from Silver Lake High School in 1957 and then went on to college and graduated from the University of Notre Dame. Jack was in a way both a frontiersman and a Renaissance man rolled into one: a musician, mechanically inclined, creative, innovative and a perfectionist maybe to a fault. It seemed he could build anything, so it made sense for him to start a construction company in the late 1960s. However, an early 1970s recession and a unique opportunity to purchase Flax Pond Cranberry Co. would set his life's course for the next 50 years.
Jack was passionately committed to the cranberry industry, Ocean Spray and communicating the benefits farming provided to the community and the environment. He was a fervent supporter of agritourism and an enthusiastic educator of visitors to Flax Pond Farms. Years of involvement in the town of Carver and a champion for cranberry growers included service as president of the growers' association, the Carver Board of Selectmen and finance committee, the boards of the Mass Farm Bureau, the UMass Extension, and the Mass Horticulture Society. Jack's lead design and construction of cranberry related exhibits won numerous awards at the annual Boston Flower and Garden Show.
A tireless man of action, Jack was choir director at the United Parish in Carver for many years, and an accomplished piano player; especially Jazz, where you could see him perform in a trio every Wednesday night at PJ's Country House in Scituate for over 30 years. A man who could digress with the best of them, when a simple question on driving directions could morph into a 20-minute reminiscence of a "gin mill" he played piano at as a teenager—"that's where you take the right."
Jack was strong willed and tough with an unrelenting work ethic, charming when he wanted to be, a man who truly loved farming, truly loved playing the piano, and most of all, truly loved Dot.
Visiting hours for Jack will occur on Sunday October 17th at the Shepherd Funeral Home, 116 Main St. (rt. 58) in Carver from 11:00 AM to 2:00 PM with a service set to begin at 2:00 PM. In lieu of flowers, donations in Jack's memory can be made to Boston University School of Medicine: Amyloidosis Center at https://www.bu.edu/amyloid/donate/.