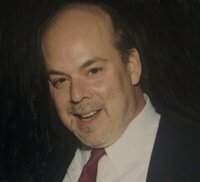 Robert Scott Shaw
Robert Scott Shaw, of Carver, MA passed away peacefully at Beth Israel Deaconess Hospital in Plymouth, MA on Tuesday, September 21, 2021.

Scott was born on June 16, 1955 to Virginia and Robert Shaw of Carver, MA.

Scott leaves behind his sister, Rebecca S. Bachi and her husband, George A. Bachi of Carver, MA. He left his nephew Keith G. Bachi and his wife, Sarah T. Bachi and their children Linnea and Erik of Plymouth, MA. He also left behind his niece, Allison B. Medico and her children Paige and Colby of Carver, MA.

Scott enjoyed cooking. He was an avid collector of antiques, especially vintage automobiles, telephones and oriental art.

There will be a graveside funeral service at the Central Cemetery in Carver, MA for family on Wednesday, September 29, 2021 at 11:00am.