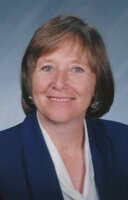 Deborah L Dempsey
Deborah Paige (Lothrop) Dempsey was born on May 11, 1949 to Janet and James Lothrop in Framingham, MA. Deb, as most people knew her, died of dementia, on September 20, 2021, at the age of 72. She attended Framingham North High School, where she was a star in field hockey, and was a member of the National Honor Society. Deb went on to attend the University of Massachusetts, where she majored in Education. That is also where she met and fell in love with Timothy Dempsey. They met in her sophomore year while Tim was home on leave from the Marine Corps. Tim and Deb were married August 28, 1971 and spent fifty years holding hands, being best friends, and raising two children, Matthew and Caeden.
Deb spent her life teaching elementary public school children in Plainville, MA, one of her greatest joys. She received a Master's of Education from Cambridge University and after retiring, started a company that focused on STEM Education. Deb loved spending time with her family in the Outer Banks, playing scrabble, doing crossword puzzles and reading to her three grandchildren, Finn, Theo, and Max. She was a friend of Bill's for twenty-two years and an active member of her church.
Deb leaves behind her husband Tim Dempsey, children Matthew and Caeden Dempsey, grandchildren, Finn, Theo, and Max Dempsey, brother Richard Lothrop, sisters Jane Casucci and Susan Black, daughters-in-law, Susan and Antigone Dempsey, brothers-in-law Jerry Dempsey, and Gary Casucci, nephews Tyler Allen, Scott Dempsey, Nicholas, Michael, and Samuel Casucci, Sister-in-law Andi Lothrop and niece Wendy
Memorial will be held at 11:00am on Thursday, September 23, 2021 at the First Congregational UCC. 254 Main Street, Plympton, MA 02367.
In lieu of flowers, donations can be made to the Alzheimer's Family Support Center at www.alzfamilysupport.org.
Flowers can be sent to Shepherd Funeral Home at 116 Main Street, Carver, MA 02330.