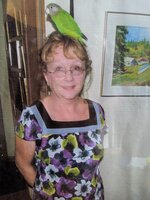 Elaine A Gillis
Elaine A. Gillis (Delaney) of Carver passed away from natural causes on August 20th, 2021. Known to most as 'Poppy' or 'Aunt Pop', she was an incredibly gifted self taught Artist, with works in photography, clay, wood, fabric and paint. She was perhaps best known for her intricate, wonderful Ukrainian Wax-Resist dyed eggs, some of which were even in the Armenian Museum in Watertown. She was a member of the Massachusetts Egg Guild as well as the National Egg Guild and her works were presented in many shows across the south shore and Boston area. She studied at Quincy Junior College (QJC), Massachusetts College of Art, and Willamantic State college. She worked for many years as a special needs aide for children with disabilities, and earned numerous certifications over the years.

Poppy is survived by her husband, Glenn Gillis, of Carver, her son Ryan Gillis and his wife, Marnie, of Plympton, her son Dustin Gillis and his wife, Ting Ting, of Wellesley, and her son Brent Gillis and his wife, Jackie, of Cedar Rapids, IA. She leaves behind four grandchildren, Brayden, Gabrielle, Xavier, and Alexander, as well as three sisters, Charlotte Delaney, of Weymouth, Dinah Delaney, of Contookook, NH, and Sheila Hazen, of Cambridge. She also leaves behind her nieces and nephews, Todd Hazen, Keith Hazen, Leah McCroskey, Charlotte Nichols and Hannah Delaney as well as her great nieces and nephews. She was predeceased by her parents, Joseph and Joan Delaney, as well as her sister, Linda Delaney.
A celebration of Poppy's life will be held on Saturday, December 18th, 11:00 AM - 3:00 PM at Shepard Funeral Home, 116 Main St, Carver, MA, 02330.