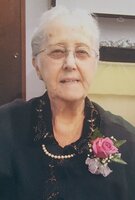 Beverly J Russ
Beverly Johnson Russ, 95, of Kingston, passed away at the Skilled Nursing Facility at Wingate at 11:00 am on 9/13/2021.
Beverly was born in Gardner, MA at the Henry Heywood Hospital to Rollin Eugene Johnson and Margaret Rhoads Johnson on May 18, 1926. She grew up in Templeton, MA and graduated from Templeton High School in 1944.
Beverly was an active member in church throughout her life, most recently at the Pembroke Assembly of God Church, and was esteemed as an elder in the community. She participated on various committees to support the best interests of the church and at one point served as superintendent of Sunday School at the First Congregational Church in Sunderland, MA. Additionally, she was actively involved with the Friends of Music for Mt. Greylock Regional High School's music department in Williamstown, MA.
Beverly was predeceased by her husband, Harry Earle Russ, of Sunderland, MA, who she married in 1952. She leaves a son, James Earle Russ and his wife, Helen, of Marshfield, MA; daughter Earlene May Russ-Ure and her husband, Jim, of Portland, OR; brother Rollin Eugene Johnson Jr. and his wife, Carol, of Plymouth, MA; granddaughters Angelee Russ-Carbin of Cambridge, MA, and Jennifer Russ of Marshfield, MA; and two great-granddaughters, Redding and Elise. Beverly was also predeceased by her sister Phyllis Drysdale and brother-in-law David formally of East Granby, CT.
A memorial service will be held at 10:00am at the Pembroke Assembly of God in Pembroke, MA on Friday, September 24, 2021. Burial will be private.
In lieu of flowers, contributions may be made to the Pembroke Assembly of God Church, 786 Washington Street, (Rte. 53) Pembroke, MA 02359, Telephone: (781) 826-2247.