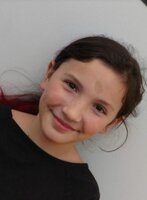 Ava Louise Pioppi
It is with great sadness that the Pioppi family must say goodbye to Ava Louise Pioppi, who tragically left us on September 6th, 2021. Our beloved Ava passed away instantly, from injuries she sustained from a motocross accident, despite wearing all the recommend gear. She did not suffer.
Ava Louise Pioppi was born on April 15th, (tax day as she would jokingly add) 2008 at Brigham and Women's Hospital in Boston, MA. She lived with her family in Carver, MA, attended Carver Elementary School, and had just entered her 8th grade year at Rising Tide Public Charter School.
She will be forever missed by her family; parents Peter and Wendy, siblings PJ and Daykota, grandparents Diane Snell, Judith and William Pioppi, amongst many beloved aunts, uncle's, cousins and her Godparents, as well as countless well loved friends. She is preceded in death by her Grandfather Russell Snell, and her Auntie JoAnne.
Ava was so close with each of her family members and truly had a special relationship with each one. She loved hiking with her mom, being outdoors and and working out to shared body building routines. She loved to work with her dad In the garage on anything mechanical, teaching each other through YouTube videos and leaning by trial and error. She clearly looked up to her big brother and sister. She had a passion for going for rides with her "Big Bro" playing sports and video games, and was always up for a rousing Nerf gunfight. She sought all sorts of advice from her sister "Kota", and especially loved going to the Dollar Tree to buy Hot Wheels and candy. She could be found every weekend helping Memé at the Omelette Shoppe, and loved doing puzzles with her when they had dinner together every night.
Ava was an extremely outgoing, always happy, charismatic 13 year old who cared about everyone. She had plans to go onto school to become a mechanic. She loved family, friends, animals, baking, motocross, watersports (especially jet ski), square-bodied Chevy pick-up trucks, collecting Hot Wheels, and photographing the sunset.
All are welcome to attend calling hours for Ava on Friday, September 10th from 4-8pm at the Shepherd Funeral Home in Carver, MA. The Funeral Mass will be held on Saturday, September 11th, 10:30 am at Our Lady Of Lourdes followed by a graveside service at Union Cemetery.
Organ donations were made from Ava's tragedy so that others could live, love, and thrive.
Ava was a free spirit, and always will be. Please make donation to help the Pioppi family cope with this unfathomable loss at her GoFundMe site. It can be found at:
https://www.gofundme.com/f/please-help-the-pioppi-family