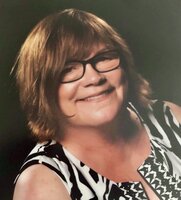 Linda Marie Abely
Linda Marie Abely, 66, of Carver, formerly of Marshfield passed September 1st at her home.
Linda is survived by her beloved husband Paul, his daughter Tracey Sullivan and granddaughter Anna of Northborough. Linda was the daughter of the late James P McCormack of Dedham. She is also survived by her mother Dorothy McCormack of Canton, sisters Mary Burton of Dedham, Eileen Ponich of Savannah GA and brothers Michael McCormack of Pendleton, OR, James McCormack of Woburn and William McCormack of Foxboro.
Linda was a graduate of Dedham High School and Curry College. She recently retired from Evans Machine of Brockton.
Linda was a loving wife, stepmother and grandmother cherished and devoted daughter and dear sister as well as a beloved aunt and faithful friend. Linda had a heart of gold, she was generous and thoughtful of others and always first to reach out and help anyone in need. She had a great sense of humor and was always fun to be with. She loved spending time with her many nieces and nephews and will be greatly missed by all of them and their families.
Linda always loved dogs especially Chrissie and Bella. She was an avid reader, participated in movie, book and music podcasts. She loved living near the ocean but also loved to travel, Hawaii was her favorite destination. She loved music especially her favorite band Wilco. Mostly she loved spending time with her family and friends.
Relatives and friends are invited to attend visiting hours 4:00 to 8:00PM Thursday September 9th at the Shepherd Funeral Home 116 Main st Carver
A ceremony will be held at the Shepherd Funeral home at 8am on Friday September 10th, followed by interment at the MA National Cemetery in Bourne.
In lieu of flowers donations may be made to Marshfield Food Pantry 1837 Ocean St Marshfield MA, 02050 or Lakeview Animal Shelter 8 Montgomery St Lakeview MA 02347