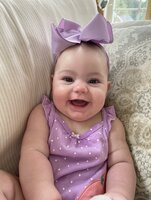 Mia Rose Burke
Mia Rose Burke passed away unexpectedly on August 27, 2021,at the tender age of 6 months.
Born to Brianna Burke and Christopher Cazeault on February 13, 2021, Mia quickly stole the hearts of all who knew her.
She had a smile for everyone she saw but only had eyes for Mommy and Daddy when they were in the room. She seemed to soak in everything around her with profound intelligence. She absolutely treasured her stuffed elephant, music and bouncing in her jumpy seat. She was a voracious eater and enjoyed everything she tried, especially carrots. Often times her giggles and squeals could be heard throughout our homes. She loved to be on the move, exploring her surroundings with excitement and curiosity but enjoyed her snuggle time too.
Our families are devastated by this loss and will feel her absence forever.
Mia leaves her mother Brianna Burke of Bridgewater and fatherChristopher Cazeault of Kingston.
In addition to her parents, Mia will always be remembered by her grandparents, Mark & Teresa Cazeault of Kingston, and Patrick Orlando of Bridgewater and Melinda Burke of Randolph; as well as her aunts and uncles Theodore, Jacqueline & Michael Cazeault of Kingston, and Liam Walls of Holbrook.
Mia also leaves behind her great grandparents Connie Orlando, Valerie & Kevin Burke all of Bridgewater; John & Marjorie Simeone, Kathryn Cazeault of Marshfield, and Mary Cazeault of Plymouth; her great aunt Janell Dubsky of Norton and waspreceded in death by her great grandfathers Patrick Orlando and William Cazeault.
It would be impossible to list all of the lives our Mia Rose touched so deeply in her short time with us. The list would go on and on.
Her smile was radiant, her laugh infectious and her energy pure. She captured the attention and affections of everyone she met. She will forever be remembered as a beautiful, bouncing ray of sunshine. Although her soul has been called home, her memory will be the light and love in our hearts forever. Our precious angel Mia Rose.
The Cazeault family will be holding a celebration of life for Mia on Friday, September 3, 2021, from 4-8pm at Shepherd Funeral Home in Kingston.
The family strongly suggests in lieu of flowers that a donation to a charity of your choice be made in Mia's name.