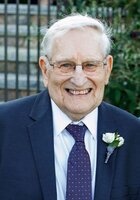 Thomas George Malick
Thomas (Tom) George Malick, 96, of East Sandwich, Massachusetts passed away peacefully on August 25, 2021 with loving family members by his side.
Born on November 16, 1924, in Kingston, Pennsylvania, Tom was the son of the late John and Veronica (Onderko) Mallick. He was one of five boys. After he graduated from high school, his family moved to Bridgeport, Connecticut.
Tom was a proud American and enlisted in the armed services shortly after his 18th birthday. He served as a First Lieutenant pilot and flight officer in the Army Air Corps in World War II from 1942 until 1945. Tom remained a lifelong supporter of the armed services and veterans' issues. After the war, Tom attended and graduated from the University of Bridgeport.
In 1949, Tom married Dorothy Salamon, whom he had met at a birthday party in 1942. Tom's love for his wife Dorothy was monumental. They were married for nearly 72 years and over this time shared a thriving and immortal bond. The two of them were inseparable, constantly by one another's side holding hands and sharing a laugh.
Tom moved to Stratford, Connecticut in 1957 to open an automobile service station. He
believed in the power of hard work and ran a successful business for over 40 years. He retired to his long-time second home in East Sandwich, Massachusetts. Tom absolutely adored Cape Cod where he enjoyed fishing, tending to his bird feeders, and hosting family and friends.
Family was of utmost importance to Tom and he cherished his role as husband, father, grandfather, and great-grandfather. Tom was an icon of the family and was always there to offer advice, compassion, and the perfectly executed joke. His supportive words, wisdom, and humor were irreplaceable assets to the family. He will be missed immensely.
In addition to his wife Dorothy, he is survived by his children Thomas Malick (Susan) of East Burke, Vermont, Doreen Blunck of Des Moines, Iowa, and Janet Orr (Daniel) of Duxbury, Massachusetts; his grandchildren Ryan Blunck (Sahar), Lauren Gulotta (Andrew), Kaitlin Blunck, Geoffrey Malick, and Victoria Malick; his great- grandchildren Thomas Gulotta and Aidan Blunck; his brother Dr. Arthur Mallick (Joan) of Trumbull, Connecticut; and many nieces and nephews. He is predeceased by his three older brothers John Mallick, Albert Mallick, and Richard Mallick.
Family and friends will honor Tom's life from 8:00-9:30 am on Tuesday, August 31, 2021 at Shepherd Funeral Home in Kingston, Massachusetts followed by his funeral mass at 10:00 am at the Holy Family Church in Duxbury, Massachusetts.
In lieu of flowers, contributions can be made to the Leukemia and Lymphoma Society online at https://givenow.lls.org/give/342076/#!/donation/checkout