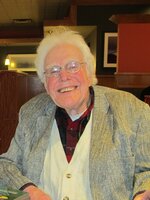 Stanley David Wood
Stanley David Wood of Carver, MA, formerly of Chester, VA, and Kingston, Ontario, Canada passed away on August 14, 2021, at age 93, after a brief illness. David Wood was born in Davidson, Saskatchewan, Canada on April 24, 1928, to Stanley Nixon Wood and Elizabeth Musselman Wood. David Wood was a graduate of the University of British Columbia, Vancouver, BC with a Bachelor of Applied Science in Mechanical Engineering. He served 12 years in the Royal Canadian Armed Forces, Reserve and retired with the rank of Captain. He was a successful Polymer Engineer working for Dupont of Canada and later for AlliedSignal (Honeywell). He received a Master of Engineering in Mechanical Engineering from Virginia Polytechnic Institute and State University. Mr. Wood retired from AlliedSignal (Honeywell), Chesterfield Plant, in 1993. While living in Chester Virginia, he was a member of the Chester United Methodist Church and in sang in the choir for fifty years.
David Wood was predeceased by his much-loved wife of 63 years, Beverly Grace Bryson Wood, and his son-in-law,Gregory John Driscoll. He is survived by his four daughters: Grace Elizabeth McGlynn, and her husband Patrick; ColleenBeverly Wood Córdova, Cynthia Anne Wood-Driscoll, Allison Ruth Wood (Nagy); and his six grandchildren: Rachel Elizabeth Nagy Toon and her husband Derek, Cristina Celeste Córdova and her fiancé Ben Ernzen, Alexander Bryson Nagy, Sean David McGlynn, Brian Patrick McGlynn and E. Tristan Córdova. In addition, to his children and grandchildren, David Wood was a father/grandfather figure to many friends and neighbors around the world. David Wood was dearly loved and will be missed by many.
Memorial visiting hours will be held on September 7, 2021 at the Shepherd Funeral Home, 216 Main St, Carver, from 3:00 to 5:00PM.