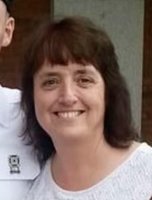 Maureen Genereux
Maureen Shea Genereux, 59, of Carver, MA, passed away on July 22, 2021 in Plymouth.
Maureen Genereux (nee Shea) was born in Somerville to Walter and Mary Shea on May 1st, 1962. She went to high school at Archbishop Williams and graduated in 1980. She worked as a preschool teacher for decades and was also a bookkeeper for MD Stetson supply company for about 16 years. She enjoyed spending time with her kids and grandchildren, softball, going to church and being around people she cared about. She was heavily involved in her church at Manomet Bible Church in Manomet.
Maureen is survived by her husband Christopher, of Carver, sister, Kathleen Shea, of Holbrook, her 4 children; Christopher Niblett of Kentucky, Gabrielle of Middleborough, Matthew of Colorado and Jacqueline, of Carver. As well as her grandchildren Jayden Langley, of Middleborough and Phoenix of New Hampshire. She is preceded in death by her parents, her three brothers Jimmy, Tom and Michael Shea and her two close friends Cheryl Mullen and Marie Hilson.
Visiting hours will be held on Sunday, August 1st from 2-6:00 PM at the Shepherd Funeral Home, 116 Main St (Rt. 58) Carver. A funeral service will be held on Monday, August 2nd at Manomet Bible Church, 1214 State Road, Manomet, MA at 11:00 AM. Graveside services will follow at the MA National Cemetery in Bourne at 12:45 PM. In lieu of flowers, donations may be made in Maureen's name to the Manomet Bible Church, PO Box 741, Manomet, MA 02345.