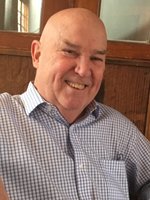 Daniel M "Dan" Farnham
Daniel M. Farnham of Carver lost his courageous battle to cancer at the age of 70, on May 28, 2021.
Dan was the loving husband of 49 years to Marguerite "Maggie" Robinson; and a dedicated father of Linda Farnham Smith and her husband Brian Smith of Carver, Kevin Farnham and his wife Faith of Myrtle Beach S.C,
Dan was an Adoring Papa to Kaylee, Caitlin, Ryan and Henry Farnham and Kendall, Colin and Riley Smith.
Dan is survived by his brothers Charles and his wife Theresa of East Bridgewater and Robert and his wife Shirley of Alliance, OH. As well as many nieces and nephews.
He was predeceased in death by his two parents, step father, and two brothers Thomas & Gregory Farnham.
Born on April 27, 1951 in Melrose, son to the late Harriet and Charles Morrissey, later adopted by his step father Richard A. Farnham. Dan grew up in E. Bridgewater where he attended E Bridgewater Schools, then Thayer Academy. He graduated in 1972 from Mass Maritime Academy with a B/S degree in Electrical and Mechanical Engineering.
Dan was a retired Senior Engineering Specialist for F.M Global and a licensed U.S Merchant Marine Officer. His passion was his family and grandchildren and he enjoyed woodworking, fishing and his "69" Corvette.
Dan will be greatly missed by all who knew him.
Services will be held on June 12, from 10 am to 12 pm at the Shepherds Funeral Home located at 116 Main St, Carver, Ma.
In lieu of flowers, donations can be made to the Carver Athletic Boosters Club, South Meadow Rd, Carver MA 02332,