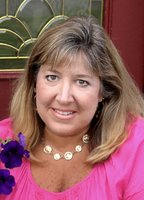 Christine (Kirwan) McGrath Abbott
Christine (Kirwan) McGrath Abbott, 56, of Kingston, MA, passed away peacefully at home on May 23, 2021, after a long illness. Christine leaves behind her beloved husband, Chuck Abbott, and her adored children, daughters Olivia McGrath and Emily McGrath-Abbott and sons Matthew Abbott and Michael Abbott. Christine was predeceased by her first husband, Stephen McGrath.
Born in Dorchester, MA on December 2, 1964 to Jean and Lawrence Kirwan, Christine was the fifth of seven children, including Kathleen Kirwan Feeney, Judith Kirwan Kelley, Jean Kirwan Fargo, Larry Kirwan, Jr., Scott Kirwan, and Nancy Kirwan-Hayden. Christine grew up in Weymouth then Duxbury. She went to Sacred Heart High School in Kingston and attended Northeastern University.
Christine was boundlessly creative and her finished product was always beautiful. Her work as a florist, photographer, and jewelry designer brought her and her clients much joy. As a realtor, she loved helping people find their perfect house. She was an avid gardener and took great care of the birds and wildlife around her home. A lifelong animal lover, Christine always had a house full of her cherished cats and dogs. Living near the ocean was central to her life, so much so that Christine and Chuck got married in Plymouth Harbor on the Pilgrim Belle. As much as she treasured her home, she was a frequent traveler. Some of her favorite trips included Aruba, Alaska, the Pacific Northwest, and Hawaii and she had great family trips to Florida, California, and the Bahamas. She also enjoyed attending concerts and playing pickleball.
Christine loved to laugh and could find the humor in just about everything. She could get you laughing even in the most unfunny of circumstances. Christine's high school yearbook quote sums up her approach to life, "Live each day as though it's your last." Being a happily married mother was the most important thing in her life. Although her life was far too short, her greatest success was finding love twice and creating the loving family of her dreams.
Christine will be missed dearly every single day by all who knew and loved her.
Visiting Hours will be on Thursday, May 27th from 4-8pm at Shepherd Funeral Home, located at 216 Main Street in Kingston, MA.
A Funeral Mass will be celebrated on Friday, May 28th at 10am at Holy Family Church, located at 601 Tremont Street in Duxbury, MA.
Additionally, there will be an 8:30am prayer on Friday morning at Shepherd Funeral Home followed by a final drive past Christine's house prior to heading to the church for anyone who would like to join.
Donations made in her honor to the American Cancer Society would be gratefully received.