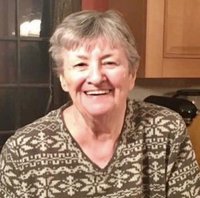 Margaret (Peggy) Drown
Margaret (Peggy) Ann Drown (McCarthy), 78, of Carver MA passed away surrounded by her family on April 8, 2021. Peggy was raised in Dorchester by her mother, Dorothy McCarthy. She was a graduate of Monsignor Ryan Memorial High School and enjoyed her work at Blue Cross Blue Shield and PartyLiteGifts. Peggy's greatest joy was being with family.
Margaret was predeceased by her loving husband of 57 years, Chester; her Mother, Dorothy McCarthy and her Sister, Dorothy (Dottie) Woolson. She leaves behind her Daughter Susan Hannon and her husband Patrick of Carver; her Daughter Judith Goldberg and her husband Joseph of Plymouth; her son Christopher Drown and his wife Christine of Pembroke. She also leaves her grandchildren, Amanda Hannon, Victoria Hannon, Ashley Goldberg, Kayla Smith (Goldberg) and her husband Joshua, Alyssa Goldberg and her Fiancé Jeffrey, Kara Goldberg, , Robert Drown and his wife Jessica and Brian Drown. She is also survived by 5 great grandchildren; Magnolia, Thornton, Sophia, Madison and Lilly.
We will be celebrating Peggy's life on Saturday, April 17, 2021 at 11:00 AM, at the Restoration Community Church located at 213 Main Street, Kingston, MA 02364
In lieu of flowers, please donate to Cranberry Hospice, 36 Cordage Park Circle, Suite 326, Plymouth, MA 02360