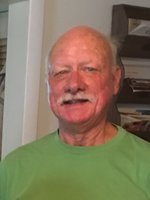 Brian J. Markey
Brian James Markey, 73 of Carver, passed away on February 14, 2021.
Brian graduated from Arch Bishop Stepinac High School in White Plains, NY. He was Sea Scout in High School. Following high school Brian attended Georgetown University in Washington DC and graduated with a Bachelor of Science degree specializing in Russian language and logistics.
Brian taught at Salesian High School in New Rochelle, NY.
He managed a bookstore in Manhattan, NY, where he was fortunate enough to meet and befriend many movie stars of that era. He moved to Massachusetts to manage a Barnes and Noble bookstore in Boston.
After changing careers and studying Computer Science, Brian secured a Senior Programmer Analyst position at Ocean Spray Cranberries. Here Brian developed, enhanced, and provided ongoing support of the mainframe business system. After Ocean Spray, Brian joined Cyber Inc, as a Staff Consultant. He was assigned a contract to the State of Rhode Island. Here he worked for the Office of the General Treasurer where he designed enhanced systems.
Brian loved reading, music, traveling, the Caribbean, Mexico and National parks. His pride and joy was taking care of his yard and gardens. He enjoyed his retirement years and was a committed member St. Vincent DePaul Food Pantry in Middleboro and was affectionally known as the "meat man".
Beloved father of Adam Markey of Pembroke. Brother to Bruce Markey of Naples, FL, and sister Kathy Gold of Henderson, NV. Loving Fiancé to Ruthann Levesque of Carver and her children Scott Levesque of Middleboro, Debbie and Tim O'Mara of Little Egg Harbor, NJ, and the late Kathy Maki and her husband Michael Maki and their daughter Kaitlyn of Raynham. Son of the late James and Josephine Markey. Cherished Grandfather to Kaitlyn Maki of Raynham and Mikey Maki Fall River. Brian is also survived by his great grandchildren.
Visiting hours will be held on Friday, Febraury 26th from 11-1:00 PM, with a prayer service set to begin at 1:00 PM at the Shepherd Funeral Home, 116 Main St (rt. 58) Carver. Graveside services will follow. In lieu of flowers donations may be made to
Society of St. Vincent DePaul Food Pantry in Middleboro at www.svdpmiddleboro.org.