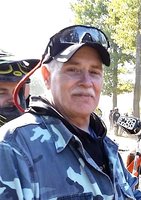 Brian D. Vayo
On 1/4/2021 Brian Douglas Vayo, 61, of Hanson MA, passed away peacefully after a battle with cancer at his home in Norwell, MA with his wife by his side.
Brian was born in Lowell, MA to Paul and Charlotte Vayo on 6/20/59. He went to high school at Whitman Hanson. An animal lover, Brian was lucky to live near a stable for the last four years. He loved spending his Tuesday afternoons with his grandchildren, who were his world. They would walk through the stables together, watching and feeding the horses. The three of them would spend time coloring and playing with play dough. He loved taking trips to the races to watch his son race dirt bikes, and having long conversations with his daughter. He appreciated watching the birds and the deer that surrounded his home. Brian enjoyed painting, drawing, and fishing.
Brian will be lovingly remembered by his wife/best friend of 42 years, Louise McMullen Vayo. His son Jason Vayo and Jason's wife Stephanie Thompson Vayo along with his grandchildren, Zoey and Cash Vayo. His daughter Jamie Vayo LaCivita and her husband Dave LaCivita. As well as his siblings; Gary Vayo, Sharon Vayo, Kelly Vayo Pasca and Rick Vayo. He will also be remembered by numerous nieces and nephews and family friends.
There will be a celebration of life to be determined at a later date.
The family would like to thank the staff at the Old Colony Hospice.
In lieu of flowers, memorial donations may be made to St. Jude's: www.stjude.org/donate.