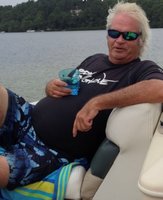 Kevin T. Nolan
Kevin Thomas Nolan (KT, Kev), 66 years old of Plymouth, MA passed away peacefully on July 14th in the Boston Medical Center.
Kevin was born in Weymouth, MA to John and Annabelle Nolan on September 17, 1953. He went to Weymouth High School and graduated in 1971. From there he had many various jobs before getting his teaching degree: boat making, sales person in a clothing store, co-owned a fish market in Norwell and various others.
At the age of 35 he received his teaching degree from Bridgewater State College with a Bachelors in Science. He student taught at Plymouth Carver High School then went on to Carver High School where he taught for 28 years. He taught Earth Science and Geology and all loved him! Especially his students. He made time for his students allowing them to talk and confide in him about the troubles of a high schooler. He never turned a student away if they needed to talk or chill in his classroom. His classroom was a safe haven. He saw all of his students as important and with great potential. He taught real life lessons because he knew they would need those lessons the most. He touched so many hearts and helped them keep their heads above water.
He was an avid hunter with both bow and arrow, shot gun and rifle. His music was extremely important to him. What a bass player, playing many years with the Counts. He and Donna loved gardening together whether it was vegetables, herbs or flowers. Jalapenos were Kevin's favorite to grow. He loved, loved cooking and was always making sauces, soups, pot roasts and more. He used the crock pot so there was plenty to share with family and friends. Road trips were often taken if only around the pond. Some of theirfavorite destinations were PTown, Lincoln NH, West Dennis Beach and 6A. They always took the scenic road when traveling, taking everything in. West Dennis Beach was his favorite beach after having grown up there in a family cottage.
Kevin is survived by his wife/soulmate, Donna Merritt Nolan of Plymouth.
His sister, Rose Wood and brother-in-law Ronny Braun of West Dennis. His son and daughter-in-law Korey and Becky Nolan with their two children, Marina and Micah of Hampton Falls, NH. His son, Charles Lincoln Nolan resides at New England Villages in Pembroke.
A celebration of Kevin's life will be held sometime in September.