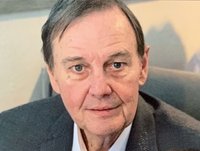 Stephen Sargent
Stephen Sargent, 68, passed away surrounded by his loving family on August 31, 2019. He is the beloved husband of Debra Sargent. Loving father of Christine Sargent and Andrew Sargent and his wife Anabella. He was a devoted grandfather to his grandsons Alexander and Anthony. He is the brother of Kathleen (Sargent) O'Neil, Lu Sage, Janet Tracey, Marion Jesser , Elaine Sargent, Kevin Sargent, David Sargent and Joseph Sargent. He is the son of Phyllis (Concannon) and the late William R. Sargent. He also leaves behind many nieces and nephews.

Mr. Sargent was an avid hiker of Massachusetts trails and those in Nova Scotia. He was a passionate minor of Herkimer Diamonds in Central New York, where he could find peace and quiet amongst the jackhammer and saw. He was a strong support for his family and friends, always with a solution to help. His efforts were for perfection and his creations showed that level of care. He was an avid reader and also loved nature photography. He was a member of South Eastern Massachusetts Mineral Club and truly cherished the outdoors. He was a nurse for 9 years and worked with Armstrong World Industries for 18 years. He also worked at Revere Graphics in Plymouth. One of his greatest joys was attending his son Andrew's weekly softball games . He will be sorely missed by many, but he begins his next journey seeking out the jewels of heaven. His family and friends will miss him deeply.
The family will be having a private celebration of his life. Memorial donations in Stephen's name can be made to the American Cancer Society or Cranberry Hospice, Plymouth, MA.