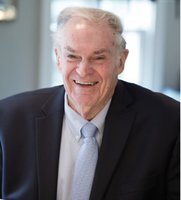 Carl R. Leighton
In Loving Memory of Carl R. Leighton
Carl R. Leighton (81) of Kingston (formerly of Duxbury) passed away peacefully on Thursday July 4, 2019 with his loving family by his side. Devoted husband of Dianne (Christian) Leighton, Carl was preceded in death by his parents Conrad and Emily (Eisenhaur) Leighton. Carl is survived by his children Tracey (Leighton) Burke and husband John of Kingston, and Todd Leighton of Searsmont, ME. He was a devoted grandfather to Sean and his wife Julie (Hendren) Burke of Duxbury, Caitlin (Burke) and husband Steve Morris of Duxbury, and Jordan, Kelsey and Colby Leighton of Sandwich and great grandfather to Jack Burke of Duxbury. He is lovingly remembered by his grandchildren as Grampy. He is survived by his sister Marcia (Leighton) and husband Jim Murphy of Venice FLA and his nephews, Craig and Darrel Murphy.
Carl was raised in North Reading MA, and graduated from the Massachusetts College of Pharmacy. He proudly served as a medic in the National Guard. Carl and Dianne moved their family to Duxbury in 1965 when Carl took over the helm at South Duxbury Pharmacy. He is fondly remembered by Duxbury residents as a person of kindness and compassion.
In his over 50 years of service to the town, Carl established himself as someone you could trust and count on in times of need. No matter how busy, Carl always found time to offer his counsel or exchange a humorous story. His generous spirit and kind demeanor is his lasting legacy to the community he served for so many years.
Carl loved fishing on Duxbury Bay and was an avid woodworker. His signature birdhouses can be seen throughout Duxbury. He also enjoyed tennis and cross country skiing with close friends. Most of all, Carl loved spending time with his family. He had a passion for telling stories and enjoyed a special bond with each of his five grandchildren of whom he was so proud.
In lieu of flowers, contributions may be made in his memory to Juvenile Diabetes Research Foundation or Disabled American Veterans. A special thank you goes to the wonderful doctors and nurses at Beth Israel Deaconess Hospital in Plymouth who took great care of Carl during a difficult time.
A private family service will be held at a later date. Details will be handled by Shepherd Funeral Home in Kingston, MA.