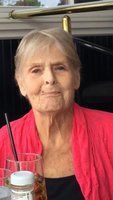 Mary Betts
Mary Betts, 70, passed away on June 8, 2019 after a six year battle with cancer. Born in Boston to William and Edna Peinert. She was the loving wife of the late Paul Betts of Hanover, they also previously lived in Middleboro. She attended Girls Latin and Silver Lake High school, graduating in 1966. Mary was employed by the US Postal Service in Hanover. She enjoyed gardening and her dogs. She tended bar at Lake Palace in Pembroke and Golden Crown of Hanover as well as the American Legion in Hanover.
She is survived by her brother William Peinert of Hanson and his wife Anne, sister Susan Canite and her husband Ronald of Hawaii, Brother John of Maui who passed in 2010. Loving daughter Barbara Robinson of Maine, Step daughters Kathy Miller of Hanover, Patty Betts of Hanson and Deb Nord of Hanover. Grand children Danielle Taylor of Taunton, Scott Macomber of Maine, Eric, Lindsey and Sarah Miller of Hanover, William Nord of Hanover,Kelly and Michael Flemming of Hanson. 2 great grandchildren Lexi and Neveah Taylor of Taunton.
Memorial Visiting Hours will be held at the Shepherd Funeral Home, 7 Mattakeesett St, Pembroke on Saturday, June 15, from 4:00 to 7:00PM. A service will directly follow at 7:00PM.