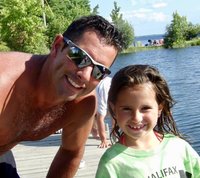 Thomas W. Kelly
Thomas William Kelly, 48, of Halifax, formerly of Randolph, passed away on June 8, 2019.
Loving companion to Kathleen Fowler and cherished father to their daughter Sophia and Stepfather to Samantha. Beloved son of Donna (Richardi) Almon of Bridgewater and to his father William Kelly of Stoughton. Loving brother to Michele Kelly of Marshfield, Erin McColgan of Bridgewater, and Dareece Vaca of Raynham. Stepson to William Almon.
Thomas is also survived by his nieces and nephews; Nicholas, Michael, Jake, Alyssa, Elizabeth, and Lila, as well as by many aunts, uncles, and cousins.
Tom's Big Bright smile could light up a stadium and anyone that knows him knows this. His smile could be seen from a mile away. His daughter Sophia was his shining light, he adored her more than any amount of words could ever say. He loved the Boston Bruins, enjoyed cooking for his family and friends and loved fishing as well as family vacation in Sebago. His heart was huge, he was always there to help with anything. Grew up playing hockey, Tom attended Blue Hills Regional High School. He worked as a carpenter/roofer.
Visiting hours will be held on Thursday, June 13th from 2-6:00 PM at the Shepherd Funeral Home, 216 Main St (Rt. 106) Kingston.
In lieu of flowers donations may be made to:
Thomas Kelly Memorial Fund
Bridgewater Savings Bank
5 Scotland Boulevard
Bridgewater, MA 02324