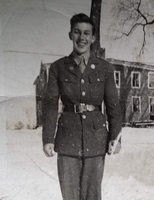 James E. Ballinger, Sr.
On May 28, 2019, James (Jim) E. Ballinger, Sr., 94, quietly slipped away, to begin his new and everlasting journey. Jim was born in 1924, in Knoxville Tennessee and was the oldest son of Earl and Lillie (Moore) Ballinger. His siblings, all pre-deceased, were Edith Merritt, and Billy Ballinger of Tennessee, and Betty Patton, of Michigan.
In 2003, he lost the love of his life, June A. (Cram) , after 61 years of marriage. Together, they raised 6 children. He leaves behind his son, James E. Jr. of Middleboro, and Sam, Alan and David, all of Kingston. He also leaves behind his daughters, Anne Mullaney and her fiance, Warren Borsari, as well as Mary Smith, and her significant other, Richard Messina. Richard was also Jim's best friend for many years.
At 17 years old, he enlisted in the Army and trained in Oglethorpe, Georgia. He served in the Europeon and North African Theatres of Operations; and, in 1944, he was wounded in the Battle of Anzio, in Italy. He was the recipient of a Purple Heart and the Bronze Star. He instilled the love of his Country within the next four generations of his family. Many of them followed in his footsteps, by serving their country as well.
In 1972, Jim retired from General Services Administration in Hingham. While enjoying his retirement, he lived independently within the community, until he entered Brockton's VA Hospice in April. He spent those last days, making sure we knew his heart was filled with love for us. Never once did he complain. A true soldier to the end.
He was a lifetime member of the American Legion in Kingston, where he served as Commandar, many times throughout his adult life. He was also a member of the VFW in Plymouth; but, his greatest love was for his family. Jim leaves behind twenty-four grandchildren, forty-nine great- grandchildren, and six great-great grandchildren. "Uncle Jimmy" also has many nieces and nephews, whom he loved a well.

He was a man of faith, trusting we will one day meet again. This is another gift he gave to each one of us.
Visiting hours will be held on Monday, June 3rd from 4-8:00 PM at the Shepherd Funeral Home, 216 Main St (Rt. 106) Kingston.
A funeral mass will be held on Tuesday, June 4th at 10:00 AM at St. Joseph Church, Kingston.
Graveside services will follow at Vine Hills cemetery in Plymouth.