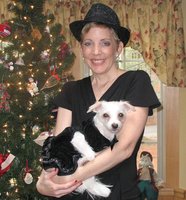 Michelle Jean Bahret
Michelle Jean Bahret, 48, of Carver, Ma. passed away peacefully, surrounded by her loving family,on May 15, 2019 after kicking cancer's ass for 8 years.
Michelle was born in Poughkeepsie, NY on March 22, 1971. She went to high school at Sacred Heart High School and graduated in 1989. She then earned a bachelor's degree at Bridgewater State University and her master's degree from Ashland Theological Seminary in Ohio. She worked both as a Christian and clinical counselor for several years.
Growing up in Plymouth, Michelle cherished any time that she could spend at the ocean, especially her summers spent at Saquish Beach with family. One of her last wishes was to spend time at the beach, which was graciously accommodated by Cranberry Hospice of Plymouth, MA in her final days. Her other passions included liturgical dancing and serving in many ministries at the Kingston and Bridgewater Vineyard churches.
While at the Kingston Vineyard Church, Michelle was actively involved in the youth ministries and part of the prayer team. In 2017 Michelle became a significant part of the original launch team who helped start Bridgewater Vineyard Church in East Bridgewater MA. She was a valuable leader, team player and a cherished part of their growing family at BVC. She served as Ministry Team leader and Life Group leader. She served with joy and enthusiastically jumped in to help in whenever she could. She was dearly loved and will be greatly missed by her church community.
She also enjoyed creative writing and had been asked to speak at colleges, churches and the American Cancer Society's Relay for Life about her journey with breast cancer. She was passionate about raising funds for cancer research and spent many years doing so with her family and friends as Team Michelle with the Relay for Life of Greater Plymouth.
Michelle is the beloved daughter of Mary Jane (Traynor) Ferguson and Allen Ferguson of Carver Ma., and her father Bruce D. Bahret of Charlottesville, Va. She is also survived by her sister Kathleen Tourinho and her husband Peter Tourinho of Taunton, Ma., her brother Kevin Bahret and his wife Christine Bahret of Hopewell Junction, N.Y., and her nieces and nephews Cailin Bahret, Ryan Bahret, Cassie Tourinho, Christian Tourinho, Dustin Tourinho, Whitney Tourinho, Brooke Norvish, and Taylor Norvish and his wife Katey Norvish, as well as many aunts, uncles and cousins who adored her. And of course, her beloved dog Bella.
Visiting hours will be held at the Shepherd Funeral Home 216 Main St. Kingston, Ma. on Thursday May 23rd from 4pm-7pm.
On Friday May 24th, a funeral service will be held at The Vineyard Church 8 Hilltop Ave. Kingston, Ma. at 11am followed by a gathering of friends and family at the Upland Club 76 Upland Rd. Plympton, Ma. at 1:30p.
Memorial donations may be made to Cranberry Hospice Care of Plymouth
The nurses and health aids at Cranberry Hospice were nothing short of amazing in their care of Michelle in her final days and we will be eternally grateful for them.
The family also wishes to extend their gratitude to the doctor's and staff of Dana Farber Cancer Institute and Brigham and Women's Hospital, along with the volunteers from the American Cancer Society.