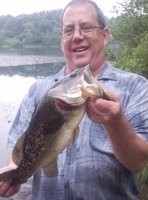 Stephen ""Bubba"" White
Stephen "Bubba" White, 54, of Pembroke, formerly of Braintree, passed away peacefully of a lengthy illness on May 13, 2019, in Weymouth, MA.
He was born on April 7, 1965, in Milton, MA to the late Robert J. White & Kathryn M. (Twomey) White. Steve attended school in Braintree ("Home of the Wamps!" as he would say). Stephen worked as a machine operator for 3M for 15 years. On May 21, 1994, he married Jeannine Vidito in Marshfield, MA. They had two daughters, Casey Nicole, and Rachael Catherine.
He was an avid Patriots fan, often treating the Superbowl as a major holiday every year, 6 of them being Patriots' wins. Bubba was a huge heavy-metal head, especially in support of a close friend's local band, DEGRADER!!! He could always be found fishing or behind the grill, whether it be cooking up his famous ribs for the neighborhood or "blizzard burgers" in the middle of the night.
Bubba is survived by his wife Jeannine; his two daughters Casey & Rachael; his brother and sister-in-law William (Bill) & Lori White of Myrtle Beach, SC; his many nieces and nephews; and many other family and friends.
A memorial visiting hours will be held from 2-5:00 pm on Saturday, May 18th, at Shepherd Funeral Home in Pembroke Center at 7 Mattakeesett St (Rt. 14), Pembroke, MA, 02359. To offer condolences or for directions please visit www.shepherdfuneralhome.com. Shepherd Funeral Home, Pembroke.