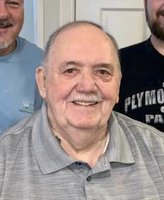 John S. "Sonny " Passamonti
John S. Passamonti "Sonny", 78, of Kingston, passed away on May 4, 2019. Born on July 21, 1940, he is the son of the late Sylvester and Frances (Monahan) Passamonti. Loving brother to Claire and her husband John Murphy of Nashua, NH, Kathleen and her husband John Feeney of Plymouth, Dawn and her husband Carl Renzetti of Nashua, NH, and Gene and his wife Cindi of Lehigh Acres, FL,
Loving father to Susan Chrorniak, Joanne Passamonti, Michael and his wife Colleen Passamonti, and the late Gene M. and James Passamonti.
Step father of Laurie Flanagan, Jay Garofalo, and Thomas and his wife Diane Garofalo. Loving companion to the late Beverlee Tracey.
Former husband of Beatrice Lukas of S. Boston. and Maureen Passamonti.
John is survived by many grandchildren as well as several nieces and nephews.
Services will be private. Donations may be made in his name to Old Colony hospice at www.oldcolonyhospice.org.