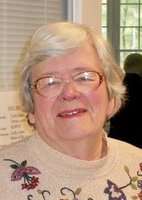 Susan C. "Sue" Mangione
Susan (Sue) C. Mangione, 85 passed away peacefully on Sunday April, 14, 2019 after a year long battle with cancer. She was the daughter of Donald and Margret Cady. Sue was a graduate of Bucknell University and was a 33 year resident of Duxbury.
She is survived by her husband Francis. Her brother Steven Cady and his wife Madge. Her son Mark and his wife Julie of Hoffman Estates Illinois and Her son John and his wife Terri of Amherst NY, She is also survived by four grandchildren and one great grandson.
Sue was a long time member of the League of Women Voters and volunteered with the organization wherever she lived. Sue also had a long love for flowers and was President of the Orchard Park NY Garden Club. In Duxbury she worked with students at the PAC. Her interest in Antiques led to her running for many year Hearts Desire Antiques.
A celebration of her life will be held on Saturday June 22, 2019 at 10:00 a.m. at the Pilgrim church of Duxbury, 404 Washington St. Duxbury Ma.
In lieu of flowers, donations may be made to the 'Friends of the COA' re: raised gardens in memory of Sue Mangione. and sent to the Duxbury Senior Center 10 Mayflower Street Duxbury, MA 02332