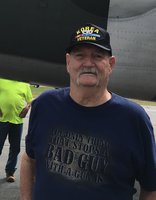 Carl R. Lippert
Carl R. Lippert, 82, of Carver died unexpectedly on October 9, 2018. He was the son of the late Charles and Edna (Holt) Lippert.
He was the devoted husband for 56 years to Carol (Severse) Lippert and the father to his beloved daughter Lisa Lippert.
He was born in Boston, and raised and attended schools in Carver. He served in the US Air Force and in the Korean War. He lived in Hanson for 45 years. He was employed as a truck driver for Jenkins Simmons Transportation Company for 26 years.
He was a life member of the Plymouth VFW Post 1822, Carver American Legion Post 164, Korean War Veterans Association, Plymouth Rod and Gun Club, and the NRA.
He is survived by his sisters Edna Tomasi and her husband Anthony, and Brenda Boney, his late sisters Ruth Beck, Elaine Staltman, Diane Hennessey, and his late brother John Johnson.
His hobbies included karate, camping, fishing, snowmobiling, and target shooting.
Mr. Lippert will be laid to rest with Military honors at the Massachusetts National Cemetery, in Bourne on Friday, October 19, 2018 at 10:15 AM.
Those wishing to honor his memory can do so through any veteran's organization or groups.