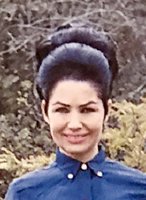 Mirella S. Naddaff
Mirella S. Naddaff (Xidias) of Kingston passed away on March 31, 2018 at age of 83.
Mirella was born in Salonica, Greece and was the daughter to the late Nicholas and Ourania Xidias; sister of Jack Xidias of Quincy, and Paula Mellinger of Kingston. She is also survived by a son George Naddaff Jr., and daughter Victoria Cafferelli and her husband Jeff Cafferelli, grandchildren Brendon and Jenna Cafferelli, and many nieces and nephews. Mirella enjoyed working as a European Singer and Bellydancer in Europe taking the stage name "Mirella Greco". Later in life she enjoyed spending time with her two children, grandchildren, friends and family. In her spare time she also loved gardening, cooking, and traveling abroad to Greece to see family and friends. She was loved by many and will be greatly missed.
Visiting hours will be held on Wednesday, April 4th from 4-7:00 PM at the Shepherd Funeral Home, 216 Main St (Rt. 106) Kingston. A funeral service will take place at the Shepherd Funeral Home on Thursday, April 5th at 10:00 AM. Graveside services will follow at the Evergreen Cemetery in Kingston.