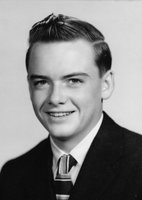 Raymond Williams Dunn, Jr.
It is with great sadness that the family of Raymond Williams Dunn Jr. (Benji) announces his passing, peacefully and of natural causes, on Saturday, April 7, 2018 at the age of 79. Ray was the son of Alice and Raymond Dunn Sr., and will be lovingly remembered by his wife of 57 years, Cynthia and his children, Steve (Chris), Garret (Margo), and Jodi (Dave). Ray (Papa) will also be fondly remembered by his six grandchildren, Hayden, Molly, Parker, Jordan, Owen, and Jackson, and four step-grandchildren, Sam, Paige, Henry, and Morgan. Ray will also be forever remembered by his extended family and dear friends.

A native of Pembroke, Ray proudly served in the US Navy aboard the aircraft carrier USS Franklin D. Roosevelt, and upon leaving the service attended Wentworth College in Boston. In 1958, he began a career with Prudential Life Insurance before starting his own Waste Services business, Old Colony Disposal, in 1962. Old Colony was acquired by a firm that became part of industry leading BFI - Waste Management, and over the next 40 years, Ray worked his way from a front-line sales position to being Manager of New England Sales and Corporate Acquisitions. Ray left the business briefly in the early 1970s to work at Cersosimo Lumber Co. in Vermont, where he ran their furniture business.

Ray loved RV traveling, criss-crossing the country with his wife four times in his retirement years. He also loved a good round of golf, good food and friends, and above all his cherished family. Ray was never happier than when spending time with his wife, kids and grandkids, always proclaiming in those moments that "it doesn't get better than this."

Memorial visiting hours will be held on Saturday, April 14th, from 2:00-6:00 p.m., at Shepherd Funeral Home, 216 Main St (rt. 106), Kingston, MA 02364

In lieu of flowers, donations in memory of Ray may be made to The Alzheimer's Association
P.O. Box 96011, Washington, D.C. 20090-6011.